E-mails From Susan, Part I
From: Andreas
Date: Thursday January 4 10:50 1996
Subject: Welcome to Hattie's Heart List!
Welcome to Hattie's Support List
Thanks for asking to join. You've been added to the list. We'll try to post daily news to this list.
Susan has a laptop with modem at her bed in the ICU; she dozes for a while, wakes up, and checks her e-mail. She prefers the laptop over her TV; she's never been much for watching TV (tho' she watches Startrek: Next Generation like clockwork) (Capt. Jean-Luc Picard of the starship Enterprise himself has a second artificial heart.)
And I'd like to thank each one of you personally for your support for Susan. She's in good spirits and she'll do her best to get back to the kitchen. A new heart will also let her get out and start checking out many more restaurants.
yrs, andreas
---
From: Andreas
Date: Thursday January 4 23:45 1996
Subject: Free Willie!
Yesterday, Susan was told by her doctors that today, she'd be taken to LA for a heart transplant. Susan wanted to see Willie, her big red cat, before she left.


We thought about whether we could convince the ambulance that was to take her to the airport to stop at home for a cat visit. Susan said that she had a better idea: I was to bring him into the second floor ICU.
I quietly asked her head nurse if I could bring a cat into ICU. Of course not. No way. It's not permitted. Against the rules. Somebody would be fired. Therefore Willie has to be smuggled in.
I looked out of Susan's window. She's on the second floor at the corner of the building. The window opens. Piece of cake: put Willie in a cat carrier, drop a rope with a hook, and pull Willie up.
I went home, picked up Willie, and drove back to the hospital. It was night by now. We decided to make the rope trick into Plan B. For Plan A, we'd just walk into the hospital with him. Maybe nobody would notice. Yeah, right.
Willie had been quiet up to now. We entered through the Emergency Department, because the doctors and nurses are usually behind a partition. It was a busy night: lots of people. Willie was bundled up in a pink blanket to look like a baby. That worked until he gave a loud yowl and people jumped! That was a very sick baby! We almost burst out laughing and started to run for the staircase. At three steps at a time, we ran up the stairwell and walked quickly into ICU. As we walked past all the nurses and doctors in the center space, Willie gave another yowl. We got into Susan's room and shut the door.
Susan was very happy to see Willie. He got up on the bed and laid next to her. After a while, a nurse knocked on the door. We threw a blanket over Willie and she came in. She knew we had a cat in there. She thought it was funny and wanted to see Willie. From then on, when she came into the room, the password was "meow."
After an hour or so, Willie and I left. All the nurses wanted to see Willie.
Moral: Where there's a Willie, there's a way!
yrs,
andreas
---
From: Andreas
Date: Saturday January 6 09:55 1996
Subject: Friday's Update
5th January. Friday morning. Susan had been told that we probably leave for LA by 10 am Friday. But there wasn't an available bed at the UCLA. We would have to wait until a bed became free.
So we sat. Susan looked at e-mail and I packed up her hospital room. I had brought our baggage and left it in the trunk of the car. At 11 am, Susan began napping. Still no bed at UCLA. We waited hour by hour. Normally, visitors are only allowed ten minutes. This is a bit of a flexible rule: the nurses use it to throw people out. They have to watch two patients each, so they appreciate those who take over much of the work: I feed Susan (but that means mostly listening to her complain about the hospital food), help her to the bathroom, fetch this and that, bring her water, cover her up, and so on: its a full time job and that takes the load from the nurse, so they certainly don't mind my being here all the time.
At 3 p.m., Susan began to become nauseated. It was a symptom of her body's chemical imbalances; it got worse and her pulse and blood pressure began to collapse. Within moments, her room was filled with nurses and doctors and the resuscitation equipment. For an hour, she was very close. Her pulse fell to 35 or lower; she was skipping heart beats, her blood pressure wasn't there, she began to pass out. At five or so, she began to stabilize again. Her cardiologist decided to put a cath into her heart to measure cardiac pressure. I held Susan's hand and watched and helped by passing along things. During the procedure, he said that I was the first person he'd ever allowed to remain in the room. Susan didn't mind the procedure too much. By this time, Susan was wired for sound: she had tubes in and out of just about everything.
At six p.m., UCLA called and said that a bed was finally available. The ambulance airplane was on its way to Sacramento. During its flight, they called and asked for Susan's weight. The nurses said that I was coming along. They said no. Susan insisted. They asked for my weight. I added that there was about 45 pounds of baggage. After a bit of negotiations, they said that I could accompany, but with only ten pounds of baggage. It meant leaving everything behind. We were ready with only a small bag of things and the laptop. And a framed portrait of Orion, her cat.
At 7:30 p.m., the airplane landed in Sacramento. The ambulance picked up their team and brought them to the hospital. Susan was disconnected from the hospitals ICU monitors and medical pumps and reconnected to the teams portable equipment. She became her own rolling ICU. When everything was tested and ready, we all left: two ambulance people, two air ambulance team, Susan, and me. At the airport, we loaded into a small twin engine plane. It was extremely crowded in the airplane: Susan was constantly watched. She was bundled securely and surrounded by monitors. It was an excellent night for flying: clear sky, no clouds, full moon, no traffic. Susan felt a bit of discomfort, so she was given morphine. She was floating on her own cloud. I sat behind her head and gave her sips of water. With a strong tail wind, we got to LA 30 minutes ahead of schedule. We taxied to a large hanger where the LA ambulance was waiting.
After a short ride, we arrived at UCLA medical center and Susan was brought up to the Cardiac Care Unit (CCU). It makes ICU look like a day care center. At midnight, Susan was inspected and poked and yet more tubes and sensors were added. There is so much telemetry here. You'd need a road map to follow all of them. I've learned to follow the readouts and I keep an eye on things. A cath was put into her bladder; nearly half a liter came out. That relieved the pressure. From 1 am to 3 am, I dozed next to her bed; its four am now, Saturday, and she's asleep and stable. At ten am, there will be another series of inspections and decisions. Ill try to write again tonight.
Susan says many hellos to everyone. As I add each name to her support list, I tell her who it is and she say, oh, yeah, say hey to them... She's very, very glad to hear from each of you. She says "today was the worst day of my life. Thanks for the prayers and candles: it worked." A little bit ago, she awoke, saw me writing on the laptop and asked if there was a telephone port in the room so that we could connect the laptop. By tomorrow, she'll probably be online again. Can't keep her down... they'll probably have to pry her fingers away from the keyboard as they take her in for her transplant. "no, tell the donor to wait! I have a great pickle recipe!"
yrs, andreas
---
From: Susan
Date: Tuesday January 9 23:49 1996
Subject: Tuesday Night, Midnight
Tuesday night, near Midnight
Say hey!
This morning, I saw a very robust young man being cheerfully greeted by the staff. When he walked past my room, I asked him in for a moment. I asked him if he'd had a heart transplant. He said it was a year ago. He's in blooming good health now. He looked just great and healthy and athletic. I was overwhelmed and started crying. I asked him what he had looked like before. When he had been admitted, he was 260 pounds. I told him that I was waiting and that I'd almost gotten one last night. He told me that I shouldn't worry: this is the best place in the world. I told him about the net and all of my friends who are writing, that I felt I was being supported on a wave of love. He agreed, that it takes your friends to get you through this. He reminded me that it's a big responsibility to get a heart. I'm really looking forward to the day when I can be healthy again and give back some of the love I've received.
Andreas brought a big sack of bagels and creams for the staff this morning: they loved it. Cream cheese, lax, and so on. For hours, you saw nurses walking around with a bagel in their hand.
It's been a good day: quiet. I slept most of it, after all of the excitement of last night. The neck catheter was removed and that got rid of a lot of tubes. Ray arrived with our car and clothes. Andreas is finally wearing a different shirt. He and Ray went out to a Persian restaurant: I was so jealous.
It's midnight, I'm very sleepy now, good night to everyone...
Yours, Susan
---
From: Andreas
Date: Wednesday January 10 09:56 1996
Subject: Hattie's Update
It's Wednesday morning here. Susan is dozing.
Last night, the surgeons came in and said that they had a possible heart for her: tests would be made and the decision would be reached at 3 am. I had just gone home to sleep; I came back to the hospital again. Shortly, the doctors came back and said that they were uncomfortable with certain issues and they'd have to wait for the next heart. The heart went to someone else.
Susan was crying and scared, of course. She calmed down finally.
It's Tuesday morning now: Susan has gotten a sponge bath; her hair's been combed, fresh sheets, and she's tired but happy.
Ray Bruman (from rfc) is driving down from Sacramento today with our car and baggage.
Cards are starting to arrive: thanks, folks! I read all of your e-mails to Susan.
Susan's Jewish name is Shoshanna Hannah, for those who've asked. Some of my best friends are Catholic and Lutheran priests: she needs all the help she can get.
So now we wait...
yrs, andreas
---
From: hattie@netcom.com
Date: Thursday January 11 23:47 1996
Subject: Hattie's UCLA Med Food Review!
(Well, they couldn't keep Hattie down: Here's her food review from her hospital bed at the UCLA Cardiac Care Unit (CCU) where she's awaiting her heart transplant.)
Say hey, y'all!!
Well, the food *is* better at UCLA than Kaiser. Presentation is better, with meals in little ceramic dishes set in trays. Portions are still standard sized (just what the dietitian orders!) and Kaiser and UCLA use the same type of rubber eagle, for example. I ordered a fruit plate and the amount and presentation, quality and freshness of fruit was very acceptable. There were whole, large, and sweet strawberries, pineapple, and red grapes. Lunch today was the aforementioned rubber eagle sided with rice and a nice mushroom sauce, with perhaps some wine in it. I ate a few bites of the rice and gravy. I didn't eat the salad. Andreas finished my meal and had no complaints.
In terms of ambiance, well, its like eating in a busy truck stop but the staff are very nice. Dietary aides do *not* introduce themselves; so one isn't bothered by that "Hi, I'm Tiffany (with a dot over the "I") and Ill be your server tonight."
I'm on a CCU diet but I'm trying to reduce the amount of protein and potassium I eat because my kidneys are dicey. CCU diet is low fat, low salt, restricted calories. Dinner tonight was lasagna with peas, a salad, a roll. I ate the peas and some of the lasagna. The lasagna was fine for CCU food. Most wouldn't like it because there is little other than ricotta (most likely low-fat at that) and not the usual slathering of mozzarella and parmesan cheeses. I wouldn't duplicate it at home, but it wasn't bad. The marinara sauce was salt-free..
I still don't have much of an appetite but that's okay.
Take care. They are wonderful to me here.
love, Susan
---
From: Andreas
Date: Thursday January 11 23:33 1996
Thursday Night, 11th January.
Susan had a good day Wednesday: she was able to stand up out of bed for ten minutes, which meant that the nurses decided that she could take a shower, her first since the 29th of December. It was either that or they'd hose her off in the parking lot! Until now, I'd lean her over a wash basin and wash her hair by hand. She was reconnected to mobile equipment and with two nurses, taken into a shower. She was very happy afterwards, fresh shampooed hair and washed all over.
Another room was free and Susan got to move: she now has a larger room with a window. The Los Angeles weather is incredible: low 80s and sunny. It's like summer here. To the Angelenos, however, it's winter and they walk around in sweaters. I wear shorts and T-shirts.
Wednesday afternoon, a nurse asked Susan if she wanted a pet visit. UCLA Medical Center has a staff dog that visits patients. After the paper work (it had to be prescribed by a doctor), Libby the Cocker Spaniel came in.


Libby has her own UCLA photo ID and staff title (K-9 Therapist). She has her rounds and visits patients. The program started six months ago and is very popular. Libby jumps up on the bed and lets herself be petted.
Susan was able to sit and look at e-mail; her mailbox has over 280 e-mails. All in all, a good day: showered and relaxed. I took a Polaroid of her on her favorite blue pillow, you can see that photo at the web site as well.
Today, Thursday, hasn't been good. Her kidneys have stopped functioning and the toxins in her body cause nausea and discomfort. It's a secondary effect of her heart failure. She was given strong sedatives in the morning and has tossed and turned all day with achy, dizzy feelings. All afternoon, urologists and other specialists have looked and poked at her kidneys with ultrasound and other things. They are trying different things with her kidneys. If the kidneys don't start working by tomorrow, they'll start her on dialysis (a kidney machine to purify the blood).
She's heavily sedated. One of our closest friends, Bill, flew in from Seattle; Susan didn't know he was coming. She awoke, saw him, and fell asleep again. He stepped out of the room. A few minutes later, she woke and said to me "I dreamt I saw Bill standing next to you!"
Mimi and JB Hiller came by, but Susan was asleep. Kay and Jack came by this evening as well. A staff therapist wants us to keep track of the number of visitors; this afternoon I made a graph out of the numbers and days and entitled it "Susan's Nielsen Ratings". One of the windows is nearly covered with get- well cards, cat photos, and so on.
It's been a bit of an adventure to get the pic of Libby and Susan. Bill and I walked out of the hospital to find a place that had a scanner. After a long walk and asking at many places, I saw a store that had a sign that said "Computers". We walked in and I asked the fellow if he had a scanner. He said "Yes, but..." I asked if he'd scan a few photos. He said "Oh! That's an old sign. We're not a computer store." And I said "But you do have a scanner." He said "But we're a non-profit." I said "No problem! I'll make a donation!" So we got the Polaroids scanned. I brought the disk back, edited the pics with my laptop's graphics programs, and sent them to the web site.
I'm very glad that Bill and Ray are here: I get out of the hospital and walk around a bit. I've been spending 14 to 16 hours a day there, every day.
Susan's IVs in her arms were removed which is better for her; her forearms and the back of her hands ached from the needles. A new catheter was placed into a neck artery and all of the IVs are channeled in through that; it also monitors the pressure within her heart chambers. Tomorrow, Friday, will see whether her kidneys start working again or she goes on dialysis. She doesn't have much appetite; the smell of food nauseates her. She's eating mostly fruit plates: strawberries (big, beautiful, tasty ones), chunks of fresh pineapple, and grapes. A bit of cottage cheese. Different fruit juices. That's about all.
We never know what to expect five minutes from now. At any moment, the doctors can come in and say that they have a heart and the surgery begins. Each good-bye may be the last. It's very disorientating. UCLA was kind enough to loan me an extra pager; an LA pager company gave them a boxful of pagers. I sit down to eat, without knowing whether I'll have to jump up and run off.
yrs, andreas
---
From: Andreas
Date: Friday January 12 23:56 1996
Subject: Hattie's Update: Friday, 12th Jan.
Friday, the 12th of Jan.
Well, no news is good news: nothing has changed from yesterday. Susan's kidneys aren't working and the doctors are trying different things to get them to start again. The toxins in her body cause pain, nausea, and itchiness; she was heavily sedated and slept most of the morning and up to about 4 p.m. She woke up and felt a bit better; her blood pressure climbed high enough that she could climb out of bed and sit on a portable toilet and was able to urinate. That brought cheers and smiles from the urologists, doctors, nurses, and other staff. Her kidneys are still working, if only slightly. If the kidneys stop, then they'll switch her to dialysis, but that has the problem that her kidneys may take a long time to restart. They would rather see her kidneys working first. It won't prevent the heart transplant; it'd just be a secondary problem.
The poor girl, she's so sedated and nauseated that she's eating very little (today she ate: two strawberries, a slice of pineapple, a few grapes, and drank several cups of water). But the kitchen, regular as clockwork, sends up another tray of food: they remove the untouched breakfast tray and replace it with a lunch tray; later, it's removed untouched and replaced with a dinner tray.
She's getting piles of mail: get-well cards and cat cards and cat pictures and cat calendars: she reads every one.
Several people have asked what happened to the heart that she couldn't use the other day. It went to a fellow who was number two on the list. He's in the Surgical Intensive Care now, recovering.
Others have asked if Susan needs blood donors. No, it's not necessary. The transplant surgeons recover and reuse all of the blood in the chest. At the most, she'll only lose a few teaspoons of blood.
It's weekend now in LA, which means increased accidents and trouble, so it may be possible that something may happen. Very odd to think that someone in LA is walking around with a heart that will soon be in Susan. I've become an extremely cautious driver: Susan hopes that all of you drive
carefully.
I know that back East, it's blizzards, but here, it's summer: mid-80s and sunny. Wearing T-shirt and shorts, I took a break this afternoon and went with Ray and Bill to the beach (Santa Monica and Venice Beach, where Baywatch is filmed). took off my shoes, and walked for a very long time, up to my knees in the surf. Bill found a Capt. Picard figure in a shop, which he bought for Susan to hang above her bed. We told Susan about the beach and she's ready to go.
I tried to sleep last night without Ativan, a strong sedative, but I only tossed and turned and had strange nonsensical dreams. This evening, Susan wanted me to lay in bed with her, so I did, and I fell asleep instantly; the nurse said I looked too peaceful there to awake.
Good night to everyone,
yrs, andreas
---
From: Bill Kim
Date: Sunday January 14 03:41 1996
Subject: Hattie's Update
It's 2 AM PST and Andreas is completely exhausted from the events of the past two weeks and is enjoying a well-deserved rest. But before doing so, Andreas had bequeathed upon me the honor of writing tonight's update. I can only hope to accurately convey the enormity and intensity of emotions that I have witnessed in the last 24 hours. Here goes...
By the time I awoke this morning Andreas was already awake, having already taken a shower and checked e-mail. I remember thinking that this was only my third day at "this" and I'm completely worn down. I simply could not figure from where Andreas was garnering his strength to continue at this pace. Our morning preparations for the hospital were done in silence. Each of us, deep in thought, almost unaware of each other, were preparing emotionally as well as physically for the day ahead.
Our conversation en route to the hospital was typically upbeat. We discussed how the weekend has arrived and how statistics favored finding a donor for Susan due to drunk-driving and other such human-induced tragedies. We immediately admonished ourselves for engaging in such statistical schadenfreude. This is the thin line Andreas and people in his situation must constantly negotiate. On one side is the compassion for the person he loves, on the other side is the callousness that can easily form in reaction to a difficult situation. I am glad to say that both Andreas and Susan are incredibly sensitive and caring people despite all that they have been through.
Upon arriving at the hospital it was immediately apparent that a great deal of new equipment had been added to Susan's room, but before I could consider what they were I was quickly ushered out of the room. It was a very tense 45 minutes before I came back and learned that Susan had been put on dialysis. Susan had suffered from near complete renal failure from early the previous day and the doctors had decided that dialysis was finally required at this point.
The results of the dialysis were quite remarkable; when I entered the room Susan was conscious, conversant and doling out witticisms left and right. Susan's blood pressure had gone from 72/35 the night before to 120/70. Amazing! It was great having Susan back. She had basically been un/semi- conscious for the previous 24 hours and here she was up and around and looking ready to raise hell.
Andreas and I talked her through the rest of the dialysis treatment which lasted 3 hours and withdrew 2.7 liters of fluid from her body. During this time all of us got to know Fran, the dialysis nurse, much better. She explained to us the operation of the dialysis machine which can be simply thought of as a giant coffee filter. It is really incredible the concern and effort Fran puts into every patient considering she has done this for over a decade. She treats every patient as if they were her first. I don't know how UCLA manages to find these people, but I really must credit them for assembling such a fantastic staff.
Since the dialysis is a four hour procedure and dreadfully boring, we began to fool around. Fran suggested a photo. I squeezed into the far corner and took a series of pics around the room. Here's where we've spent these three weeks. Fran dressed Bill up as a dialysis nurse. Fran said that they sit around all day, so they're always fat. So we pushed a pillow under his gown. He's waving a bed pan at Susan. Over Susan, you can see Captain Picard, patron saint of heart transplants. And Susan, typically, is clowning around. Here's Susan and Bill (it's 160 KB, but it's worth it).
After the dialysis, Susan was wiped out -- a function of her body trying to reestablish the balance of compounds between its cells and their surroundings. I left the room after her dialysis while she went through some other procedures with the nurse and Andreas. Okay, the truth is she had to pee. But I'm only mentioning this because it is such a significant event. What this indicates is that she had regained some renal function on her own.
Shortly thereafter, Ellen, Susan's younger sister showed up. We hung out for a while until Susan had to undergo another procedure at which time we were asked to leave. I took advantage of this time to talk to Ellen about Susan's condition and catch up with some people I left behind in Seattle. When I came back Susan was resting comfortably, occasionally asking for small items (water, socks, blankets...). In between these requests Andreas and I sat and chatted idly about how glad we were that Susan was doing better and what we were going to do once Susan got her heart.
It was about this time I think I began to realize what Andreas must be experiencing. [I do not mean to minimize what Susan is going through, but all of the mail to date has not effectively addressed Andreas' involvement in this ordeal (ironically enough, this is due to the fact that it was Andreas writing all of the previous updates).] I can only describe the waiting Andreas is going through as a type of exile. Andreas, as any person in exile, is caught in a state where the present has little significance -- the present is merely a way to get to the future. However, the only future that one dreams about while in exile is one's past.
It is this strange and sad "non-time" that Andreas and Susan are both in presently. Both Andreas and Susan both want to return to a time when they were both healthy -- they want this regardless of how short a time this might be. It is both simultaneously heartbreaking and uplifting to see.
The rest of the afternoon was rather uneventful. Susan's family came and left, and I decided to take the night off and go visit some family in the area for dinner. When I came back I learned that Susan had undergone another dialysis treatment, however, this time not so positively. Susan had some type of severe reaction to one of the compounds they added to her dialysis "bath". They gave her some benadryl to mitigate her body's own reaction but then had to give her a large dose of ativan when she had a reaction to the benadryl. To hear it being described one would think that Susan was simply some beaker containing a chemical reaction that had gone out of control -- with new reagents being added in an attempt to stabilize the contents. I know the doctors are doing their best, but I sometimes want to pin them down and make sure they understand that Susan is a human being and not simply some vessel of chemical reactions to be manipulated.
Anyway, Andreas and I stayed a while to make sure Susan was asleep for the night and then drove up to Ray Bruman's place in the hills overlooking LA to drop off the keys to Andreas' Sacramento apartment and some instructions for the care of Susan and Andreas' cats. Ray normally lives in Berkeley, but had driven Andreas' and Susan's car down so Andreas could use it during his extended stay down here. Ray is going to go fly back to Sacramento to run some errands on behalf of Andreas, and then, finally, drive back to Berkeley. Susan and Andreas are truly fortunate to have friends like Ray who are willing to take time out of their lives to help.
Andreas and I finally got back to the apartment in Brentwood at about 2 AM. As I mentioned before, Andreas wanted to write this update, but we finally agreed he should save his strength for Susan and that I would write it.
It has been a hectic and exhausting day. It, however, is more than the physical activity that makes it so tiring. Susan and Andreas are so in love with each other, it really is heart-rending to watch them in this situation. Andreas' devotion to Susan seems to have no limit and Susan's will- to-live is truly awe inspiring. I am just fortunate to have been allowed to share the last several days with them. The one image I will always carry from this experience is Andreas and Susan both sleeping on that narrow hospital bed -- Susan sleeping with an assortment of tubes and wires attached to her, and Andreas exhausted from a full- day at the hospital, lying next to her, cradling her. In the middle of all this chaos they had managed to find a little peace to share with each other.
So that it is it. The last 24 hours in a nutshell. I apologize for all the editorializing, it is late and I've probably said more than I should have. Hope you guys continue to write in and support Susan and the 'A'.
PS: If you are wondering who I am, Susan and Andreas helped me through my chemotherapy and are good part of the reason why I'm still alive.
---
From: Andreas
Date: Sunday January 14 09:23 1996
Subject: Hattie Update
Susan's Sunday Update:
To fill everyone in: Susan developed cardiomyopathy (congestive heart failure) about three years ago. It's a terminal condition that takes 1-3 years. The only cure for it is a heart transplant.
In Spring 94, her condition worsened to terminal. She was accepted by the UCLA heart transplant team and placed on a list. There are many more recipients than donors. Furthermore, since one has to be rather sick to be here in the first place, it means that some 30% on the list will not survive until an donor heart is available.
A few days ago, Susan's condition worsened. Her medical report writes "... survival is on a day by day condition." She was brought to Sacramento's Kaiser ICU. I gave y'all a description of that waiting and the flight. It was quite a day.
Susan has been resting since. She's flat on her back from exhaustion and weakness, but she's in a good mood. I've gotten to know the staff here: I'm here most of the day. Susan is very confident in the ability of the staff and that makes her feel safe and protected.
The transplant surgeons have come by to look at her. They have done literally thousands of transplants. They want to wait another day or two, to manipulate Susan's condition into the right parameters, and then wait for the next organ. Susan's now at the top of the waiting list, parked here in the CCU. It could happen literally at any moment now.
Yesterday, a social worker who is carrying out an experiment came by. Susan filled out a questionnaire and then a coin was flipped: she won and that means she gets to have an aquarium in her room.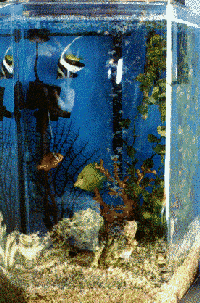 It's a saltwater tank, about two feet tall, with a big yellow angelfish, a striped angle fish, a clown fish (small and orange, with a white stripe), and a zebra fish. She was very happy to win the coin toss and get the aquarium. The fish swim around and it's a pretty tank. Susan has named all the fish and she gets to feed them. She's taking great care of the fish. If a fish is swimming oddly or they hadn't yet been fed, Susan has no problems in hitting the heart attack button, which brings nurses into the room at a trot.
Some have asked if they could send flowers, etc. Flowers and plants aren't allowed in the CCU (bacteria, allergies, etc.). What would be really nice for her would be get-well cards: any cards with cats and kittens makes her happy.
Last time, I told you that Susan would probably be up at the keyboard, so... if we get two nurses to help her up and scoot some fifteen tubes aside, (the oxygen telemetry cable is taped to her fingertip: I removed it and taped it to her big toe). Here's... Susan!

Say Hey! Thanks for the outpouring of love and support. I know it saved me yesterday and in the wee small hours of Saturday. Yesterday was the worst day in my life. I almost died twice. Andreas told y'all about the first one at Kaiser. Well, it happened again at UCLA. I got queasy and started retching and the next thing I knew there were about 20 faces peering at me and the nurse, Bea, shouting my name. It's not my idea of getting peoples attention. Bea asked me later on if my chest hurt. I said, no, it feels fine. Then she told me she had hit me on the chest with all of her strength twice. I looked at her and said, "and you were thinking, goddamn you, you little bitch, you just got here and you're not dying on me!...". She smiled; I think I was right.
The nursing staff takes incredible pride in what they do here. They take it very personally. Moira, the day nurse, told me that they want to see their patients walk out with new hearts, healthy. They put a lot into it. The staff are all very nice and so competent its painful.
Andreas says that many of you want to get me a gift to cheer me up or some such. The only thing I want is to walk out of here healthy with a new heart. I am very aware that someone like us will have died for me to have this gift of life. The best thing anyone can do for me and the 42,000 people waiting for a transplant is to sign your donor card, indicate your decision on your drivers license and tell your doctor. Discuss your decision with your family so that they understand and they follow your wishes after death. Please, please, please drive safely and never drink and drive. Especially this week, or you might end up very close to me!
It's midnight; Andreas is here and he needs to go home. I'm a bit tired. Thank you again for your love and support. I don't have words to really say about how grateful I am - we are - for your love.
love, Susan
---
From: Andreas
Date: Wednesday January 17 10:52 1996
Subject: Hattie's Update
Wednesday, Jan. 17th, 1996
On Monday, Susan was put on dialysis. Her kidneys weren't working anymore. The dialysis machine is about the size of a washer: the blood is led from her through a pump, through a filter which removes just about everything, re-warmed, and back into her. The process takes about three hours. It was carried out twice on Sunday and twice again on Monday. The effect was tremendous: by removing the toxins from her body, she's recovered completely from her pain. Within hours, she was sitting up in the bed, talking, trading jokes, laughing, and complaining about the hospital food. Her kidneys haven't given up; they've began working again. Perhaps they were overloaded with the state of her body; the dialysis made it possible for them to recover. I felt so relieved at seeing her acting normally again that I was finally able to sleep most of Tuesday.
Susan's back to "normal"; she's still connected to a number of tubes, but she's sitting up in a chair and goes for short walks (with a nurse who pulls all of the intravenous stands along). She can't remember the last four days: she was so sick and she was so zonked on sedatives. Her brother and his girlfriend came by Monday night and we got her in a chair and washed her hair, combed it, and got a hair dryer. She was happy to be clean again.
On Tuesday, after a three day weekend, 20 get-well cards and cat photos arrived; today, another 25. One of the walls is half covered.
The nurses told me that her better condition will lead to another kind of problem: boredom. Now that she's alert, she'll notice how monotonous her days are.
We were also told by the nurses that Susan may have to wait some time for a heart. Originally, she was to have been transferred to the Kaiser Los Angeles hospital (we are members of the Kaiser HMO and health insurance), where she would wait for the heart, but now, since she is in such critical condition, it's much safer to keep her at UCLA, where the staff is familiar with her condition and they can take care of her. Her nurse tells us that the average wait time is six weeks, but no one can plan: it may be tonight and it may be in seven weeks. In any case, now that the crisis of her immediate survival is over, we should adjust ourselves to a longer wait. Therefore we began to rearrange her room to make it a bit more livable: moved her bed so that she can look outside, where there's a large pine tree with a squirrel family. She hadn't eaten very much in the last week, literally only a couple of strawberries per day, because of nausea. Her brother went out and got a milkshake (vanilla, malted, giant size); she drank it down in one long slurp. Mimi and Kay and other LA rec.food.cooking foodies are organizing a cook-in for her to make more interesting and tasty food.
Since she is better, this morning, Wednesday, I drove six hours up to Sacramento, to take care of mail and bills, to remind the cats as to who pays for the cat food, and pick up more clothes and things. I'll drive back to LA tomorrow, Thursday. We're beginning to think about renting an apartment in LA for a short time, since she'll have to be there for six weeks after the transplant, so that we can bring the cats down. I'm going to contact my recruiters and see about getting a short-term contract job in the LA area (I write computer manuals and make web sites). It's odd to be back home in Sacramento; everything is here as if nothing were happening. Our four cats were happy to see me again: they milled around and walked between my legs; they follow me from room to room. As I write this, I'm surrounded by a circle of cats. Our poor answering machine had several dozen messages.
Several people have asked me if I'd write a book about all of this. It's too personal. I feel that it should stay this way: that I write these updates for those of you who are concerned and interested in Susan. It's something for us, the people who are around Susan: me, her family, friends, and her friends from rec.food.cooking and the transplant list. The net has made this possible: we read every single message that all of you have sent, yes, sometimes several hundred a day, and it makes it easier to remember that one isn't alone. Susan and I are very happy for your support; the nurses don't know what to make of all of this. People come by and handfuls of cards arrive and the nurses ask who these people are and we say "oh, friends from the net."
So, Susan is feeling much better. In a day or two, she'll be back at the keyboard from her hospital bed. She tells me to tell all of you: drive safe and wear your seat belts!
yrs, andreas
---